Vacheron Constantin - 7600U/000G-B226
Métiers d'Art Copernicus Celestial Spheres Sapphire
Case
| | |
| --- | --- |
| Material: | White Gold |
| Bezel: | Fixed, 12 Hour |
| Glass: | Sapphire |
| Back: | Closed |
| Shape: | Round |
| Diameter: | 43.00 mm |
| Height: | 12.90 mm |
| W/R: | 30.00 m |
Dial
| | |
| --- | --- |
| Color: | Blue |
| Material: | Sapphire |
| Finish: | Guilloche |
| Indexes: | None |
| Hands: | Proprietary |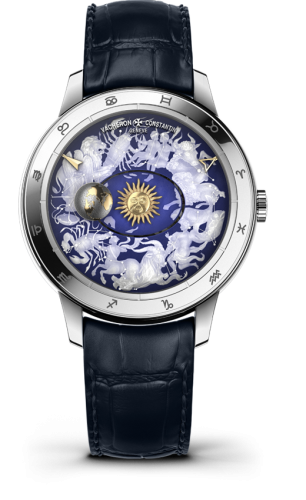 Vacheron Constantin 7600U/000G-B226 description
The Vacheron Constantin Métiers d'Art Copernicus Celestial Spheres was introduced in three configurations during SIHH 2017. Inspired by Nicolas Copernicus and astronomical discoveries in general, it features a new in-house movement providing the possibility of staging a view of the sky reproducing the heliocentric system. Time is shown by means of two triangular hands on the periphery of the dial, while the center stage is reserved for planet Earth revolving around the Sun on a elliptical path in 365.2421898 days, while making a full round on its own axis once every 24 hours.

The case of the Métiers d'Art Copernicus Celestial Spheres measures 43mm across at a height of 12.9mm, providing ample room for both the complication as well as the 'métiers d'art' to shine.

The three versions launched during SIHH 2017 are all feature a white gold case, and all feature a dial inspired by the Harmonia Macrocosmica by 17th century Dutch-German cartographer Andreas Cellarius, but both the materials and techniques used are different;

Reference 7600U/000G-B212 has a 22k gold Grand Feu enamel dial with champlevé Grand Feu enamel Earth.
Reference 7600U/000G-B211 has a hand-engraved 18k gold dial and Earth.
Reference 7600U/000G-B226 has a hand-painted 18k gold dial (sky), with laser engraving & hand engraving
on the sapphire crystal for the zodiac signs, laser engraving and SuperLuminova constellations, and a hand-engraved earth.