Vacheron Constantin caliber 2460 RT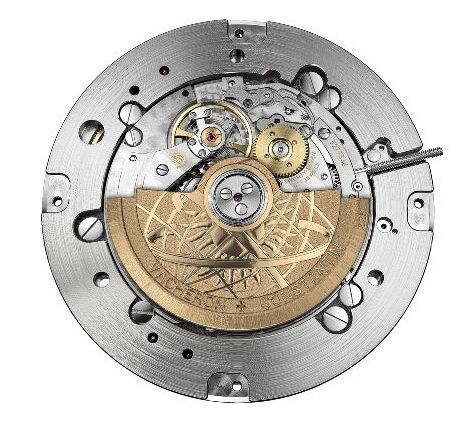 2460 RT description
Vacheron Constantin caliber 2460 RT was introduced at SIHH 2017. Based on the 2460 base, it displays the position of the earth relative to the sun, with the earth rotating on its own axis as well. It consists of 352 components including 27 jewels.

Entirely designed, developed and created by Vacheron Constantin in a three-year process, it provides the possibility of staging the fascinating view of the sky reproducing the heliocentric system. The time is displayed by two triangular peripheral hands in 4N gold – a cut-out one for the hours and a solid one for the minutes – that glide around the dial rim. These pointers are driven by large dedicated wheels positioned on the outer part of the calibre.

The elliptical path of the Earth around the Sun is a key highlight of this watch, exuding a powerful presence and providing continuous information as the days go by. The first complication takes the form of the Earth that spins on its axis in a 24-hour rotation period, corresponding to a mean solar day. The second complication achieved by means of a 'tropical' gear train is the Earth's elliptical orbit around the Sun in 365.2421898 days, meaning one tropical year. An extremely precise mechanism, since the device operating this realistic motion of the Earth requires a one-day correction only once in 8,000 years – an eternity! This degree of precision for such a complication is a means by which the Maison testifies to its commitment to developing new movements. A tour de force serving as a timely reminder that the Manufacture has consistently demonstrated this capacity for innovation in terms of analogue time display, guided by its mastery of horological engineering as well as its creative boldness cultivated across more than 260 years.
All watches using the Vacheron Constantin 2460 RT movement: