Vacheron Constantin - 86222/000G-983
Métiers d'Art Les Univers Infinis Horsemen
Case
| | |
| --- | --- |
| Material: | White Gold |
| Glass: | Sapphire |
| Back: | Open |
| Shape: | Round |
| Diameter: | 40.00 mm |
| Height: | 8.90 mm |
| W/R: | 30.00 m |
Dial
| | |
| --- | --- |
| Material: | Enamel |
| Finish: | Guilloche |
| Hands: | Alpha |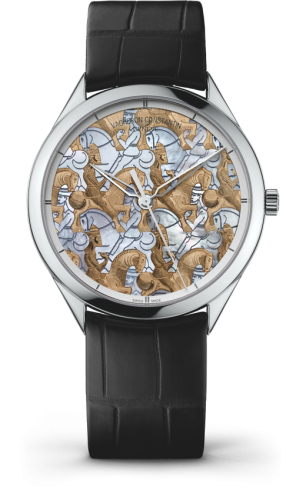 Vacheron Constantin 86222/000G-983 description
Part of the second series of the Les Univers Infinis collection, inspired by the work of the Dutch artist Maurits Cornelis Escher, the 'Horsemen' was introduced in 2013. The collection displays a blend of the Artistic Crafts cultivated by the Geneva-based manufacture: engraving, enamelling, gemsetting, guilloché work and the new technique of gold and mother-of-pearl marquetry.

The majestic Ottoman horsemen with their inimitably proud bearing straddle the dial crafted in a superb gold and
mother-of-pearl marquetry pattern. The shimmering colours of the materials mingle in perfect harmony.

The art of marquetry has been practised since time immemorial. The Egyptians used it in the form of precious
stones and ivory inlaid into cosmetic cases and furniture. In the Middle Ages, Venice and the Byzantine empire
exported luxury objects to the West featuring black and white geometrical motifs created by inlaying gold, ivory
or mother-of-pearl into wooden veneers in a subtle range of lighter to darker shades.

The marquetry artist crafts a particularly complex object by adjusting two diametrically opposing materials. Each
horseman is first cut out from gold and mother-of-pearl before being meticulously assembled, like a puzzle, on a
gold base. There are no visible gaps between the figures – a tough challenge indeed within such a small space.
Mother-of-pearl calls for extreme attention, since it is extremely fragile and must feature the perfect combination
of thickness, specific colours and shapes, smoothly combining curves and straight lines in order to follow the
lines of its gold counterpart. At the end of the process, the engraver perfects the horsemen and horses by
hollowing out the details of their anatomy.