Vacheron Constantin - 86222/000G-9804
Métiers d'Art Les Univers Infinis Angel
Case
| | |
| --- | --- |
| Material: | White Gold |
| Glass: | Sapphire |
| Back: | Open |
| Shape: | Round |
| Diameter: | 40.00 mm |
| Height: | 8.90 mm |
| W/R: | 30.00 m |
Dial
| | |
| --- | --- |
| Material: | Enamel |
| Finish: | Guilloche |
| Hands: | Alpha |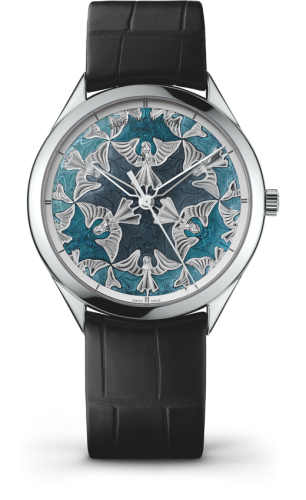 Vacheron Constantin 86222/000G-9804 description
Part of the second series of the Les Univers Infinis collection, inspired by the work of the Dutch artist Maurits Cornelis Escher, the 'Angel' was introduced in 2013. The collection displays a blend of the Artistic Crafts cultivated by the Geneva-based manufacture: engraving, enamelling, gemsetting, guilloché work and the new technique of gold and mother-of-pearl marquetry.

On the dial of the 'Angel Watch', angels and demons face off in a contrast that is both symbolic and aesthetic. The former are in light, the latter in darkness, yet neither side appears to prevail over the other. Inspired by research conducted by Maurits Cornelis Escher on the "circular boundary" – involving décor composed of infinitely multiplied elements radiating out from a central point – the watch portrays these respective figures through a subtle combination of the arts of engraving, enamelling and guilloché work, skilfully playing on depth and shimmering mirror-like effects.

Working with a white gold base, the engraver first traces the outlines of the figures and then hollows them out as cells using the champlevé technique. Next comes the copperplate engraving that defines the details of the demons. The enameller fills the cavities thus hollowed out, an operation requiring infinite precision in that the
repetitive symmetry of the pattern simply cannot tolerate even the tiniest flaw. After several firings in the kiln,
during which the grey and blue colours are progressively set in place, the artisan applies a final layer of
translucent enamel to the imps in order to accentuate the depth of the engraved motifs. The guillocheur then
moves into action to craft the angel robes and wings by patiently incising the colourful material. It is extremely
rare that guilloché work on an enamelled model is done as the last phase, precisely due to the extreme
complexity of such an operation, since any slip of the tool could jeopardise the precious work of an entire team
of artisans.