Vacheron Constantin - 86222/000G-9689
Métiers d'Art Les Univers Infinis Dove
Case
| | |
| --- | --- |
| Material: | White Gold |
| Glass: | Sapphire |
| Back: | Open |
| Shape: | Round |
| Diameter: | 40.00 mm |
| Height: | 8.90 mm |
| W/R: | 30.00 m |
Dial
| | |
| --- | --- |
| Material: | Enamel |
| Finish: | Guilloche |
| Hands: | Alpha |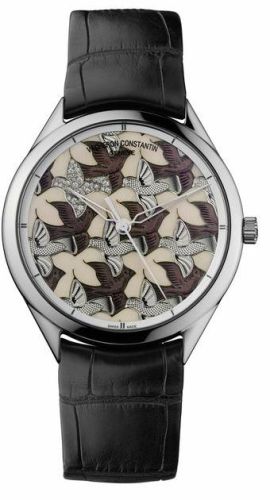 Vacheron Constantin 86222/000G-9689 description
Launched at SIHH 2012, the 'Les Univers Infinis' represented a new addition to the Métiers d'Art series, inspired by the work of the Dutch artist Maurits Cornelis Escher. The watches in this collection represent an exceptional alliance between the artistic crafts cultivated by the Manufacture Vacheron Constantin: engraving, enamelling, gemsetting and guilloché work.

Inspired by a drawing by Maurits Cornelis Escher, the dial of the Dove watch features a depiction of doves in flight, sublimated by the prestigious Fine Watchmaking arts: engraving, Grand Feu enamelling, gemsetting and guilloché worked are intertwined like tessellations to form a resplendent décor.

The white gold case is highlighted by a slender bezel ensuring a generous dial opening swept over by elegant hollowed hands. The case frames a work of art born at the hands of four master artisans within the Manufacture.

The engraver begins by drawing the outline of the doves on a yellow gold dial base, before proceeding to "champlever" them, meaning engraving the motif before the enameller fills the cavities thus formed. This meticulous operation calls for infinite precision, since the repetitive symmetry of the drawing cannot tolerate any flaws.

Then comes the turn of the enameller. The infinite range of colours and nuances stems from the various oxides that may be associated with enamel, and of their combinations. It is up to the artisan to create and choose the perfect harmony of the shades which, once bonded by firing in the often, create this radiant violet hue. The enameller completes his task by applying a translucent enamel coating to the violet birds. For their white counterparts, he opts for an opalescent enamel that reveals the engraved motifs and creates a striking depth effect.

Once the enamelling is complete, the gemsetter highlights one of the doves. The diamonds chosen for their lustre and their clarity emphasise the graceful flight of the bird, drawing the gaze towards its crystal-clear luminosity.

Finally, the guillocheur, the master of relief, does his part in accentuating the depth effect of the dial. Due to the extreme difficulty of this process, it is extremely rare for an enamelled piece to be guilloché-worked as a final phase. The expert takes the time required to patiently incise the material and thus create a truly lifelike depiction of the doves.