Vacheron Constantin - 86090/000G-9881
Métiers d'Art Hommage à l'Art de la Danse Two Dancers On Stage
Case
| | |
| --- | --- |
| Material: | White Gold |
| Glass: | Sapphire |
| Back: | Hunter |
| Shape: | Round |
| Diameter: | 40.00 mm |
| Height: | 9.20 mm |
| W/R: | 30.00 m |
Dial
| | |
| --- | --- |
| Nickname: | Two Dancers On Stage |
| Color: | Brown |
| Material: | Enamel |
| Hands: | Alpha |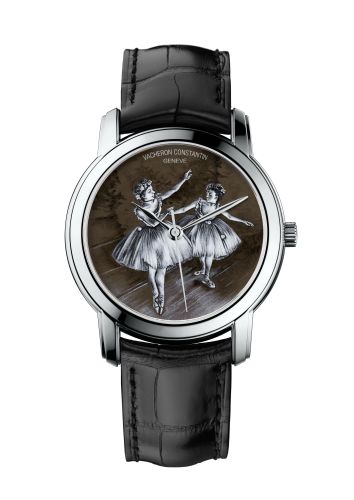 Vacheron Constantin 86090/000G-9881 description
On the occasion of the tricentenary of the École Française de Danse, Vacheron Constantin unveiled the three first one-of-a-kind creations in its new Métiers d'Art Hommage à l'Art de la Danse collection. These creations from the workshops of the Manufacture revisit the ancestral art of Grand Feu grisaille enamelling to highlight the art of classical ballet through several masterpieces by Edgar Degas.

These three first Métiers d'Art Hommage à l'Art de la Danse watches crystallise the magic and the subtly alchemy between complementary arts: that of the ballerina, that of the enameller, and that of the watchmaker. These talents are portrayed through the subtly mastered shades of Grand Feu grisaille enamelling, a technique currently mastered by only a handful of artisans. Entirely crafted in the workshops of the Manufacture, the dials are a stunning expression of finesse and timeless elegance.

Within a white gold frame, Degas' beloved ballerinas glide gracefully beneath the ever-dancing hands. The master enamel artist drew inspiration from three paintings: Ballet Room at the Opera in Rue le Peletier, 1874, oil on canvas on display at the Musée d'Orsay (Paris, France); Ballet Rehearsal, 1873, oil on canvas exhibited at the Fogg Art Museum (Cambridge, United States) ; and Two Dancers on Stage, 1874, oil on canvas on show at the Courtauld Gallery (London, United Kingdom). Chosen by the enameller after extensive research on the dancers' expression, these paintings represent three key moments in the life of a ballerina: learning, practice and performance.

The finesse of Grand Feu grisaille enamel painting reveals the slightest details of the protagonists: the tiniest fold of the tutus, the lace adorning their décolleté, the smooth velvet of the ribbons encircling their neck, the petals of the flowers in their hair, the transparency of tulle and muslin… The dancers glide across a wooden parquet that reflects the light and reveals their shadows. Entirely in the manner of Degas, the Vacheron Constantin master enamel artist reinterprets the exact moment, the gestures, the pose and the perspective, playing on chiaroscuro light and shade effects to anchor the scene firmly in reality.