Vacheron Constantin caliber 2755
| | |
| --- | --- |
| Brand: | Vacheron Constantin |
| Reference: | 2755 |
| Movement: | Handwound |
| Display: | Analog |
| Diameter: | 33.90 |
| Jewels: | 40 |
| Reserve: | 58 |
| Frequency: | 18000 |
| Date: | Day, Month, Perpetual Calendar, Leap Year |
| Hands: | Hours, Minutes, Small Seconds |
| Acoustic: | Minute Repeater |
| Additionals: | Power Reserve Indicator, Tourbillon Escapement |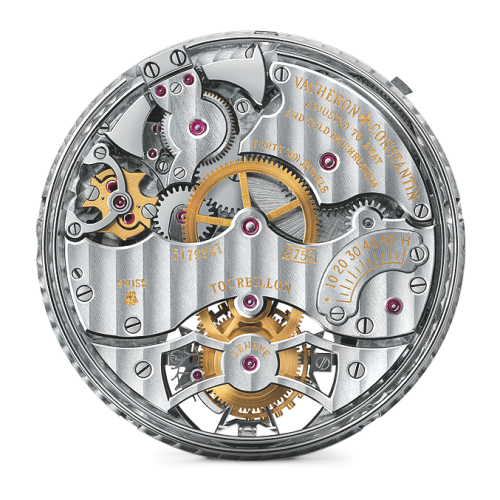 2755 description
Caliber 2755 is an hand-wound movement with perpetual calendar, minute repeater and tourbillon escapement. This movement is certified with the Hallmark of Geneva. It has a power reserve indicator on the back. It consists of a total of 602 parts.

Caught between the desire to extend the frontiers of technical possibility and concern over the practical use of this multi-complication movement, Vacheron Constantin's engineers and watchmakers came up with an original device to regulate the repeater's chiming rate: a centripetal governor.

The role of this device is to steady the rate at which the hammers strike the gongs of a chiming watch to repeat the hours, quarters and minutes in a series of notes. Without a regulator, the spring-driven strike would come out in a rush of indiscernible notes.

The device developed by Vacheron Constantin goes further than the more traditional strike regulator – a noisy recoil escapement with a lever that is subject to wear.

During the development of the movement for the Tour de l'Ile anniversary watch of 2005, Vacheron Constantin's engineers and watchmak-ers sought to replace the strike's escapement governor with a totally silent system that would reduce wear. A centrifugal governor existed, essentially a flywheel with a pair of weights that moved away from the centre as it spun to slow the wheel by increasing its inertia. Nevertheless, true to the tradition of a brand whose motto recalls that it is always possible to do better, Vacheron Constantin's watchmakers preferred to steer their choice towards a centripetal strike governor.

This device has two weights shaped so as to act as a brake on the governor's rotating shaft, thus evening-out the energy released by the repeater's spring. To achieve this, it uses the opposite centrifugal and centripetal forces. When the governor spins, the centrifugal force pivots one end of the weights outwards so that the other end acts as a brake on the central shaft to bring the rotation and the strike to a steady rate. This original and undoubtedly unique device is quite silent. The enthusiast can satisfy his curiosity while marvelling at the spinning governor through the sapphire-crystal caseback.
Other calibers that are based on the Vacheron Constantin 2755:
All watches using the Vacheron Constantin 2755 movement: