Patek Philippe - 5175R-001
Grandmaster Chime 5175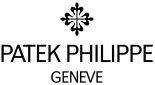 Case
| | |
| --- | --- |
| Material: | Rose Gold |
| Glass: | Sapphire |
| Back: | Open |
| Diameter: | 47.40 mm |
| Height: | 16.10 mm |
Dial
| | |
| --- | --- |
| Color: | Silver |
| Material: | Yellow Gold |
| Finish: | Guilloche |
| Indexes: | Mixed |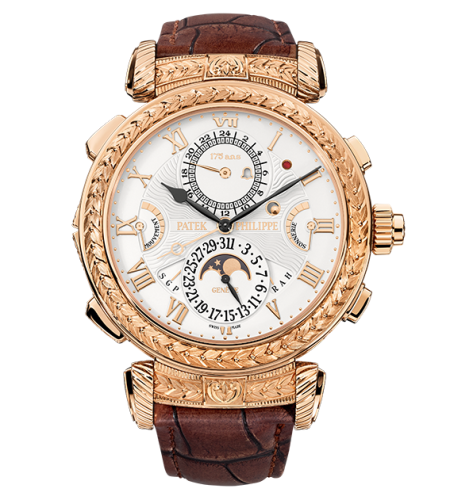 Description
The star of Patek Phillipe's highly anticipated 175th anniversary collection.

The Grandmaster Chime is sans doubt Patek's most impressive feat of modern times. It features an array of functions housed in a massive 47.4 * 16.1mm rose gold case made up of 214 components, while its movement consists of no less than 1.366 parts.

The traditional grand complication watch can be described as having one acoustic complication, one time measurement complication and one calendar complication - of course preferably all as complicated as possible. Patek Philippe however choose to go its own way and create a watch that's based upon the former and the latter, while doing away with the chronographic bits. By no means a short-cut though: the Grandmaster Chime still features 20 complications, among which two that have never been seen before.

The first novelty is the Date Repeater - and this one we actually had to add to our WatchBase list of complications. The pusher at 4 o'clock will chime the date at the owners request, with a double chime (ding-dong) for each ten and a single chime for each single digit: 26 would be two double chimes and six single chimes.

The second novelty is found in the alarm function. Instead of a buzz, the alarm will chime the hours at which it is set just like the minute repeater - with a built in feature making sure it doesn't chime just once if the alarm is set at say 1:00.

The Grandmaster Chime too features Patek's first Petite and Grande Sonnerie, chiming the time 'en passant'. The power reserve for the Sonnerie is set at an impressive 30 hours, which alone is no small feat. All chiming functions share the same barrel, whose power reserve is displayed separately from that of the timekeeping.

The case is a baroque work of art, lavishly decorated with engraved leaves - an acquired taste or a testament to the museum-worth quality of this watch?

The total of 20 complication is displayed over two dials, with the back dedicated to the perpetual calendar - though of course the 'simple' date display on the front is hooked up to the same perpetual mechanism.

A total of seven pieces are made, with one being destined to a life in the Patek Philippe Museum. Price is set at 2.5 million CHF.

Movement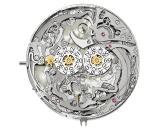 Patek's masterpiece movement that took an alleged 8 years of development. A total of 1.366 parts is working in perfect harmony to keep their most complicated wristwatch yet operating. It's functions include a Grande Sonnerie, Petite Sonnerie and minute repeater, a strikework mode display for the sonnerie (Silence/ Grande Sonnerie/Petite Sonnerie), an alarm with time strike, a never-before-seen date repeater, a power-reserve indicator for the movement as well as for the strikework, a strikework isolator indicator, a second time zone plus a day/night indicator for it, an instantaneous jumping perpetual calendar with display of day and month, date display (both front and back), leap year cycle and a four-digit year display, a moon phase display, a 24-hour and minute subdial, and a crown position indicator (winding [R], alarm setting [A], timesetting [H]). They are displayed through dials on both front as well as the back of the movement.
| | |
| --- | --- |
| Type: | Handwound |
| Brand: | Patek Philippe |
| Caliber: | 300 GS AL 36-750 QIS FUS IRM |
| Display: | Analog |
| Diameter: | 37.00 mm |
| Reserve: | 72 h |
| Frequency: | 25200 bph |
| Time: | Additional 24 Hour Hand (adjustable), Day / Night Indication, Hours, Minutes, Small Seconds |
| Date: | Date, Day, Leap Year, Month, Perpetual Calendar, Year Indicator |
| Astronomical: | Moonphase |
| Acoustic: | Alarm, Date Repeater, Grande Sonnerie, Minute Repeater, Petite Sonnerie |
| Additionals: | Crown Position Indicator |
More watches using the Patek Philippe 300 GS AL 36-750 QIS FUS IRM caliber