MB&F - 51.RL.FW
Legacy Machine LM101 Frost Red Gold
Case
| | |
| --- | --- |
| Material: | Red Gold |
| Glass: | Sapphire |
| Back: | Open |
| Shape: | Round |
| Diameter: | 40.00 mm |
| Height: | 16.00 mm |
Dial
| | |
| --- | --- |
| Color: | White |
| Indexes: | Roman Numerals |
| Hands: | Proprietary |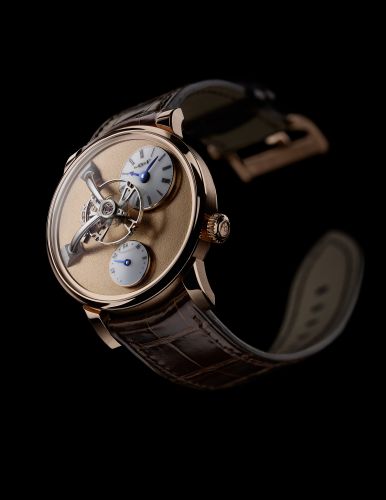 MB&F 51.RL.FW description
With the 'Frost' limited editions, the large balance wheel of LM101 now contrasts magnificently against the effervescent backdrop of a frosted gold dial. Additional contrast is provided by Frost's highly polished bezel and lugs, which make the matte surface of the frosted dial really pop.

For many, the word "frost" conjures forth images of breath-condensing cold and bright, early-morning winter sunshine scintillating off frost-covered lawns. That natural frost sparkles vivaciously due to light reflecting off the microscopically uneven ice crystals – exactly like the LM101 Frost sparkles due to light reflecting off its microscopically uneven frosted surface.

Abraham-Louis Breguet is credited with inventing the "frosted" finish in the late 18th and early 19th centuries. At the time, frosting protected dials and movements from oxidation and added subdued vivacity to movement plates. Traditional frosting methods involved dangerous acids which have been largely replaced by the safer method of carefully compressing the surface with a wire brush. This is however a much more difficult process to master and very few artisans today create true frosted finishes: the majority of surfaces that look frosted have in fact been bead blasted, which does not quite have the same visual impact.

LM101 Frost is available in two limited editions: 18 pieces in yellow gold and 33 pieces in red gold.