MB&F - 41.TSL.OW
Horological Machine N°4 HM4 Only Watch
Case
| | |
| --- | --- |
| Materials: | Titanium, Sapphire |
| Glass: | Sapphire |
| Back: | Open |
| Shape: | Round |
| Diameter: | 54.00 mm |
| Height: | 24.00 mm |
Dial
| | |
| --- | --- |
| Color: | Black |
| Indexes: | Arabic Numerals |
| Hands: | Proprietary |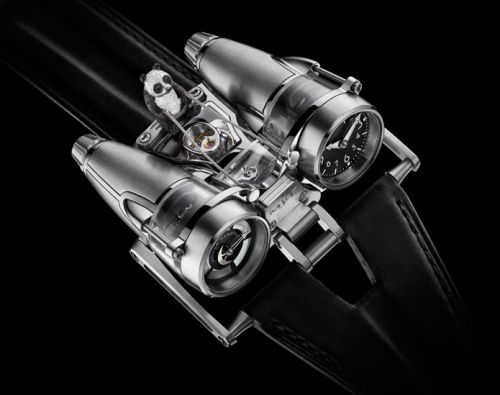 MB&F 41.TSL.OW description
The HM4 Only Watch featuring a miniature flying panda bear is a magical synthesis of children's dreams and cutting-edge haute horlogerie.

While we dream throughout our lives, there is one specific dream that children experience more frequently than adults: the ability to fly! It isn't known why dreams of flight diminish from adolescence; however, it may be that adult imaginations become more constrained as they are rooted in the realities of everyday life. Children with duchenne muscular dystrophy suffer from progressively diminished mobility leading to paralysis; however, while their bodies may be trapped, their young spirits can escape in their dreams and imaginations. HM4 Only Watch offers children a flight of fantasy, a reason to smile, and a wild ride through time and space!

HM4 Only Watch features the dream-world scenario of a solid gold panda bear riding on top of the HM4 jet, which he controls with reins made of twisted gossamer filaments made of gold. The panda was hand-carved and then cast in 18k white gold using the "lost wax" technique. And while the HM4 Only Watch is a celebration of the fantasy of children's dreams, there is also a feature for those obliged to ground their feet in reality from time to time: the panda and his reins have been micro-engineered to be completely detachable so that HM4 transforms from a flying machine into a Horological Machine.