MB&F - 32.TL.B
Horological Machine N°3 HM3 Ti Frog
Case
| | |
| --- | --- |
| Material: | Titanium |
| Glass: | Sapphire |
| Back: | Open |
| Shape: | Round |
| Diameter: | 47.00 mm |
| Height: | 18.00 mm |
Dial
| | |
| --- | --- |
| Color: | Black |
| Indexes: | Arabic Numerals |
| Hands: | Proprietary |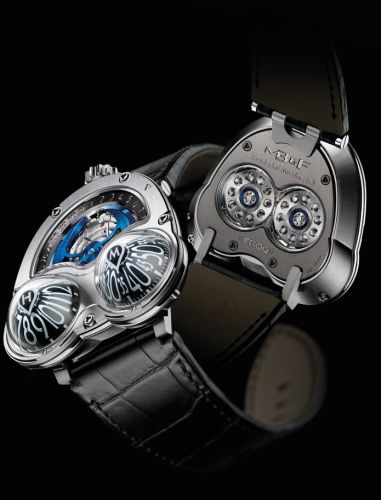 MB&F 32.TL.B description
MB&F presents Horological Machine No3 Frog. Haute horlogerie is (usually) a very restrained and serious business; however one of Maximilian Büsser's main goals in creating MB&F was to bring a child's sense of awe and playfulness into high-end watchmaking. There is no doubting that with the HM3 Frog series MB&F have certainly achieved that aim… and more!

The protruding eyes of real-life, amphibious frogs enable them to see in many directions without having to turn their head. The bulbous hour and minute domes of HM3 Frog create a similar effect, though in this case it means the wearer can easily read the time from a variety of angles without having to turn his or her wrist.

Rotating domes of this size and shape posed MB&F with a number of technical challenges. The hour and minute domes are machined from solid aluminium, chosen for its optimal strength to weight ratio. The domes weigh in at a micro-light 0.5g. They are milled first from the outside and then the inside to arrive at a paper-thin wall thickness of just 0.28 mm, which reduces their energy requirements to an absolute minimum.

Even the fabrication of the semi-spherical sapphire crystal domes was incredibly demanding and only recently even possible at all. This is due to the fact that any slight imperfection in the sapphire might introduce a disconcerting magnification effect. The sapphire has to be shaped and polished to be perfectly uniform.

The Frog may portray the time in a playful manner, but there is nothing but serious and meticulous attention to detail and care regarding the fine hand-finishing of the highly-tuned, Jean-Marc Wiederrecht-designed engine. A close inspection of the case is rewarded with carefully thought out detailing including a figure 8 engraved around the domes that mirrors the form of the display back (revealing dual ceramic bearings); distinctive clover-head screws; and an engraved arrow discreetly indicating the easy to read over-sized date.

HM3 Frog Ti is available in Grade 5 titanium with blue 22k gold battle-axe winding rotor.

HM3 Poison Dart Frog is a limited edition of 10 pieces created exclusively for The Hour Glass, and features black PVD-coated zirconium case, 22k gold rotor and 18k yellow gold screws.

HM3 Fire Frog is a limited edition of 10 pieces in 18k red gold and titanium case, 22k red gold rotor and 18k red gold screws.