Jaeger-LeCoultre caliber 184
| | |
| --- | --- |
| Brand: | Jaeger-LeCoultre |
| Reference: | 184 |
| Movement: | Handwound |
| Display: | Analog |
| Jewels: | 137 |
| Reserve: | 52 |
| Frequency: | 28800 |
| Date: | Date, Leap Year, Month, Year Indicator |
| Hands: | Hours, Minutes |
| Acoustic: | Minute Repeater |
| Additionals: | Constant Force Mechanism, Tourbillon Escapement |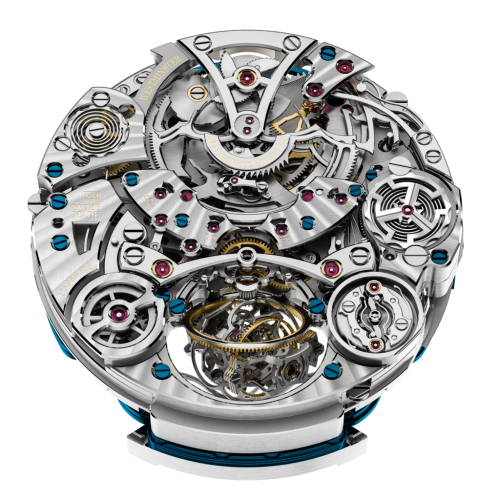 184 description
Hand-wound movement with perpetual calendar, minute repeater and spherical gyro-tourbillon. The tourbillon is significantly smaller than those in the preceding Gyrotourbillon timepieces. It uses four sets of gongs and hammers to create the Westminster chime to indicate the quarters when the minute repeater is activated, incorporating a complex mechanism that places it at the most prestigious tier of chiming watches and has a silence-reduction function built into its chiming mechanism. This ensures that even when the full set of Westminster quarters is not struck, there is no time delay corresponding to the missing quarters before the minutes are struck.

A one-minute constant-force mechanism provides a consistent level of power for the energy-hungry tourbillon without affecting its chronometric ability. The constant-force mechanism consists of a spring, known classically as a remontoir d'égalité, that is periodically re-armed by the mainspring and acts as a secondary power source to protect the regulating organ of the movement. This regulates the motion of the minute wheel, creating a jumping minutes hand that offers greater precision in time display. More significantly, the mechanism that controls the minute strike also follows this one-minute jumping system, which completely eliminates the chiming error that can occur when the repeater is activated between minutes, when the chime played and the time shown can be one minute apart.

The most common configuration of the perpetual calendar mechanism can only be adjusted in one direction, but the Master Grande Tradition Gyrotourbillon Westminster Perpétuel emphasises the experience and convenience of the user, and its date can be adjusted forwards or backwards without harming the movement. The pointer-style date indication further reinforces the precision aspect of the timepiece, as it jumps over the tourbillon aperture in order to provide the best possible view of the visually stunning rotating escapement.
All watches using the Jaeger-LeCoultre 184 movement: