Glashütte Original caliber 100-13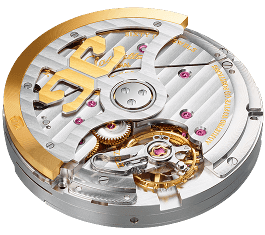 100-13 description
The heart of the Senator Diary is the Glashütte Original caliber 100-13, which combines the caliber 100-03 with the extraordinary new diary appointment module for total of 631 components (the diary appointment module alone consists of 340 components), all but a handful of which are designed, manufactured, finished and painstakingly assembled in the Glashütte Original manufactory.

A superb example of the art of engineering at Glashütte Original, the ingeniously interlocking components permit the wearer to set an appointment beyond the end of the month, even when a manual correction of the date is required; any change in date at the end of the month is passed along to the alarm mechanism, obviating the need to reset the alarm. A third spring barrel built into the module ensures that even if the watch runs down, the alarm remains wound.

The Caliber 100-13 automatic movement exhibits further evidence of excellence in fine mechanical watches from Glashütte Original, including a divided three-quarter plate with Glashütte ribbing, polished steel components, beveled edges and blued screws. These exquisite finishings are easily visible through the sapphire crystal case back.
All watches using the Glashütte Original 100-13 movement: