Arnold & Son - 1LCAP.B02A.C111A
HMS1 Dragon
Case
| | |
| --- | --- |
| Material: | Rose Gold |
| Glass: | Sapphire |
| Back: | Open |
| Shape: | Round |
| Diameter: | 40.00 mm |
| W/R: | 30.00 m |
Dial
| | |
| --- | --- |
| Color: | Black |
| Indexes: | Stick / Dot |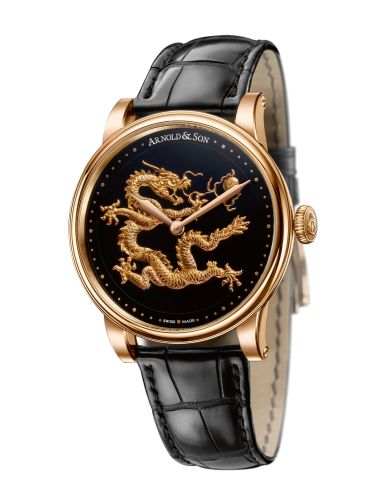 Arnold & Son 1LCAP.B02A.C111A description
To mark the Chinese Year of the Dragon, Arnold & Son announces the launch of the latest addition to the HMS1 collection, the HMS1 Dragon Limited Edition in rose gold with a magnificent gold dragon appliqué.

In Chinese mythology the dragon is a divine creature signifying power and good fortune, and is the free spirit of the zodiac. As a tribute to the Year of the Dragon, which occurs once every twelve years in the Chinese calendar and begins on 23 January 2012, Arnold & Son has created a special edition of the HMS1 in rose gold featuring an exquisitely crafted gold appliqué of a traditional Chinese dragon on a black lacquered dial.

But this is no ordinary dragon. The figure on the dial was inspired by one of the dragons depicted on the Nine-Dragon Wall in Beihai Park, an imperial garden to the northwest of the Forbidden City in Beijing. The Wall was completed in 1756, which perhaps significantly was just eight years before John Arnold opened his clockmaking workshop in London's Strand in 1764. It just so happens that the number eight is of particular importance in many Asian cultures.

The exquisite gold dragon appliqué is created by a craftsman selected specially for his expertise in hand-engraving, a traditional art form that involves the use of hardened steel tools called burins in combination with other special tools. These create cuts, lines and texturing that build up entire images or, as in the case of the HMS1 Dragon Special Edition, a perfectly sculpted figure in solid 22-carat gold with a breathtaking richness of detail, which is then duplicated for the series. The three-dimensional nature of the dragon appliqué also provides a spectacular illusion of depth that contrasts starkly with the HMS1's ultra-slim case.